>Woonstijl<>Colours of Life<
Colours of Life verruimt onze blik
Haken is geen creabea: het is technisch vernuft!
Soms wordt er nogal eens schamper gedaan over haken en breien. 'Typisch creabea'. Maar Stefanie van Wendelde Joode weet dat imago met haar werk makkelijk te ontkrachten. 'Met technisch inzicht, de juiste materiaalkennis en gebruik van natuurwetten kom je tot prachtige  kunstwerken.'
Niet voor niets gaat ontwerpster Stefanie naar middelbare scholen, van vmbo tot gymnasium, om haar vakkennis via techniek- en designlessen over te dragen aan jongeren. Ook geeft ze workshops onder de naam Talengroep Technisch Design, waarbij ouderen en jongeren veel van elkaar leren én meer kennis opdoen over bijvoorbeeld de eigenschappen van divers materiaal.
Stefanie laat graag zien dat je met weinig middelen geweldige technische innovaties kan doen. 'Door bijvoorbeeld haken, breien, macramé, kantklossen of zeilersknopen én het toepassen van scheikunde en natuurkunde ontstaan mooie objecten.'
Gehaakte wereldbol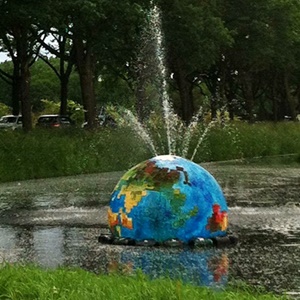 Illustratief is de prachtige wereldbol die gemaakt was voor het Liniepadfestival bij Fort Altena. De bol bestaat uit vijfhonderd gehaakte en gebreide lapjes en waterdichte seal. De wereldbol met een diameter van 2,5 meter en 150 kilo zwaar drijft op tonnetjes. Binnenkort gaat deze naar de internationale creatieve vakbeurs in Keulen.
'Zo'n wereldbol ontstaat door gebruik te maken van natuurwetten en technisch inzicht. Soms hoor ik ouderen zeggen: 'Ik brei alleen maar een lapje.' Maar ze moeten wel rekenen, soms iets opnieuw berekenen of een patroon uittekenen. Wat ik probeer te doen met mijn lessen en workshops is jongeren en ouderen enthousiast te maken om hun kennis te vermeerderen. Want doordat je meer afweet van de eigenschappen van materialen, kun je veel beter je creativiteit inzetten.'
Eigentijdse Van Gogh
Stefanie werkt niet alleen samen met scholen, maar ook met bedrijven. Aan de gevel van het duurzaamheidscentrum Weizigt in Dordrecht hangt tot november het beroemde schilderij van Van Gogh over het café van Arles. Niet geschilderd, maar gemaakt van zestienhonderd vierkantjes van plastic zakken en ander gerecycled materiaal, zoals videobanden, bliklipjes, cadeaulint en papieren tafelkleden.
Stefanie was eerst laborante, maar na een ongeluk wilde ze haar passie voor kleuren gaan inzetten. 'Ik word blij van kleuren!'
Ze komt uit een kunstzinnige familie en de stap naar lesgeven, het gebruik van kunst en techniek, was daardoor niet zo groot.
Inmiddels is er ook een boek van Stefanie uitgegeven met de titel 'Macramé nieuwe stijl'. Stap voor stap knopen voor binnen en buiten. Van wanddecoraties en plantenhangers tot hangmat.
Binnenkort gaat Stefanies atelier – na een verhuizing – weer open aan de Vijverplein 6 in Sleeuwijk. Geïnteresseerden kunnen zich aanmelden voor workshops. Tot die tijd is het een aanrader om haar facebookpagina te bezoeken: www.facebook.com/colours.of.life.workshops.
Atelier Colours of Life, Waterlinie 92, 4254 VA Sleeuwijk, 06 480 53592, coloursoflife.nl.