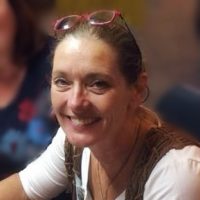 Ik hou ervan mensen te motiveren om zelf iets te ontwerpen.
Het is mooi om te zien, wanneer mensen trots zijn op hun eigen werk.
Lees meer...
Via Colours of Life werk ik regelmatig samen met scholen, verenigingen en culturele centra om de begeleiding te verzorgen op het creatieve vlak, zoals de crea-lessen, de technieklessen en bij projecten. Binnen het voortgezet onderwijs ben ik werkzaam geweest binnen de vakken Natuurkunde, Science en Techniek en Scheikunde.
Met de Talentgroep Technisch Design richt ik mij binnen scholen op jongeren met een hoogbegaafdheid profiel.
Kortom ik geniet – bij het zien van de vele colours of life.
Wat zijn er toch veel mooie dingen in het leven!
Liefs, Stefanie.